Who, What, When, Where, Why and How Confined Space Fatalities Happen
Confined Space related deaths have risen over the past decade. This presentation was delivered at the VPPPA 2021 Safety+ National Symposium by Roco's Director of Training, Chris Carlsen, and Roco Chief Instructor and Regional CSRT Manager Tim Robson. It covers: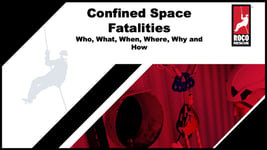 Confined Space Awareness
Common Confined Space Hazards
Fatalities by the Numbers
Case Studies
Review
If you work in or around confined spaces, trenches, or heavy machinery, this presentation includes vital information to keep you and your coworkers safe.