Roco Rescue Confined Space Types Chart & Compliance Guide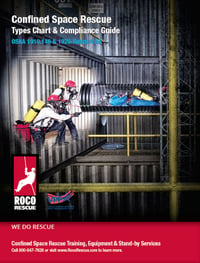 Responding in a safe, effective and timely manner to the various types of permit-required confined spaces at your facility is required by OSHA regulations 1910.146 (PRCS) and 1926 Subpart AA Confined Spaces in Construction. An effective response by your rescue service is crucial to the safety of workers who are tasked with entering confined spaces to perform their job duties.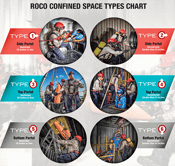 This helpful guide provides information for evaluating your rescue team or prospective rescue service based on those requirements. It includes a Rescue Team Evaluation Checklist from Appendix F and illustrates Confined Space Types 1-6, which is based on criteria from OSHA 1910.146. These methods of categorizing spaces by type can be useful in establishing practice requirements for your rescue service.
Fill out this form to download it now and/or to have a hard copy mailed to you at no charge. (Hard copies mailed only to addresses in the United States and Canada)